Mail Passport Lite | Your own tool to safely convert your EML to PST and MBOX to PST.
Have you been looking for the perfect and flawless tool to convert your MBOX and EML files to PST?
We are proud to present a solution which will end your search.
Convert MBOX files, EML files to Outlook for Windows PST format with Mail Passport Lite program.
Mail Passport Lite is a professional third party email migration tool which has been developed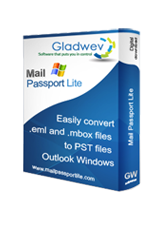 specially to convert EML and MBOX files to PST Outlook for Windows.
The need for email migration is very major and data loss is a grave situation when handling important data. Which is why you need a professional and reliable tool to do it all for you. You need a tool which is accurate and fast at the same time.
That is why we developed the perfect tool for your MBOX/EML to PST conversions. This flawless conversion tool gives you the power to successfully convert EML to PST and MBOX to PST for windows platform in just a matter of a few minutes.
What are the benefits of MBOX to PST/EML to PST Converter Tool?
Mail Passport Lite gives you additional benefits with its exciting new features.
You get the fastest conversion results for your

EML to PST

conversions as well as

MBOX to PST

conversions for Windows. Support all generic *.eml and *.mbox supported email clients.

User friendly interface with a guiding wizard to help you with all the conversions if you are a beginner user. 

You can preserve your Unicode content while converting; this proves helpful to users dealing with data in languages other than English. 

Your email content is not disturbed or modified in any way, it stays intact and safe .

The program offers 100% guarantee of data safety so that you don't have to worry about losing your

EML or MBOX

files in future. 

The Mail Passport Pro lite is an error or bug free program to spare you the unnecessary hassle. 

You save all the time by minimum input and maximum output from the program. 

Data corruption is out of the question for Mail Passport Lite.
You get life time updates, free of cost. If you want the fastest and most accurate email conversions for your email files and data without any harm, this is the perfect product for you. Join us to have a better experience with your email data; we can help you unlock doors to endless possibilities in the future.
What people are saying about the EML to PST/MBOX to PST/Windows Live Mail to PST Converter Tool?
This is the perfect product for the users who consider their emails and data to be important. This incredible tool saved hours of my time at work and gave me the peace of mind so I did not have to think about losing my important data ever again! This program is so swift in operation that I feel like I am doing nothing at all. Mail Passport Pro really puts you in control! Hats off to the developers! – Shaun Patrick (Marketing Manager, Chicago).
Mail Passport Lite helps you to convert eml to pst, mbox to pst, Windows Live Mail to PST for windows Outlook 2013, 2010, 2007 and 2003.