I recently needed to convert all my MBOX files to PST. The task appeared to be so demanding that when I finally got around to 'Mail Passport Lite,' I had almost drained my optimism. But the tool threw all my concerns out of the water instantly. From installation to the actual MBOX to PST migration – everything worked smoothly. The vast and handy feature-list that the tool lets you operate with is unspeakably valuable. And thumbs up to the tech support team that was very "supportive" in the truest sense. Recommend it highly!

I got my hands-on Mail Passport Lite after fiddling with plenty of unpleasant tools and utilities. But when I did, I was elated by its entire functionality of EML to PST conversion. I had a huge chunk of EML files that I needed to convert to PST for Windows Outlook. The concerns that I had (data loss, draining my time, etc.) was effectively put to rest by this tool. Huge thanks to the team of Gladwev Software that brought this monumentally crucial and helpful application to fruition.

Making my way from MBOX to PST was the hardest thing I had to do. It didn't have to be, if only I had found Mail Passport Lite sooner. It's the only converter I found with immense range of serviceable features that are necessary in such email conversion tasks. The data was securely migrated, the interface was cordial for a beginner like me, and the rest was equally well-designed and thought-out as one would expect from a top professional company.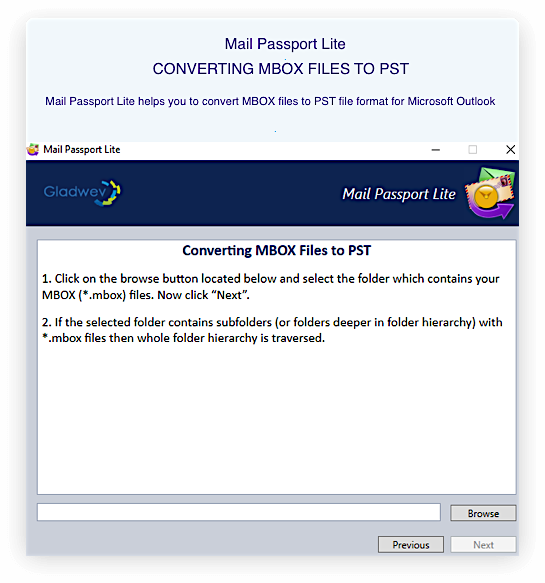 Convert MBOX to PST
with a few clicks
---
Hassle free import MBOX to Outlook 2019 / 2016 / 2011 (Mac) and Outlook 2019 / 2016 / 2013 / 2010 / 2007 / 2003 (Windows).
---
'Mail Passport Lite' can convert your MBOX files to PST in a matter of few minutes – accurately and cleanly. It allows for batch conversion of MBOX files as well, without diluting down the performance and other elements. It surpasses the average accuracy index of ordinary converters, ensuring clean migration of all components from MBOX to PST. The rate of conversion is also boosted to make large-scale migration projects not take up your precious time.
---
Convert EML to PST
Simple and hassle free
---
Hassle free import EML to Outlook 2019 / 2016 / 2011 (Mac) and Outlook 2019 / 2016 / 2013 / 2010 / 2007 / 2003 (Windows).
---
EML is a Windows Live Mail native file, and it is pretty complex to convert them to PST files for Windows Outlook. 'Mail Passport Lite' is up to challenge in an inspiring way. It pushes for 100% precision of EML to PST conversion, without over-looking any data item no matter how small in size. You can load any number of EML files and have them converted to PST in no time. The tool is perfect for advanced and basic home users, and in no point during the process would you feel lost or confused, regardless of your experience.
---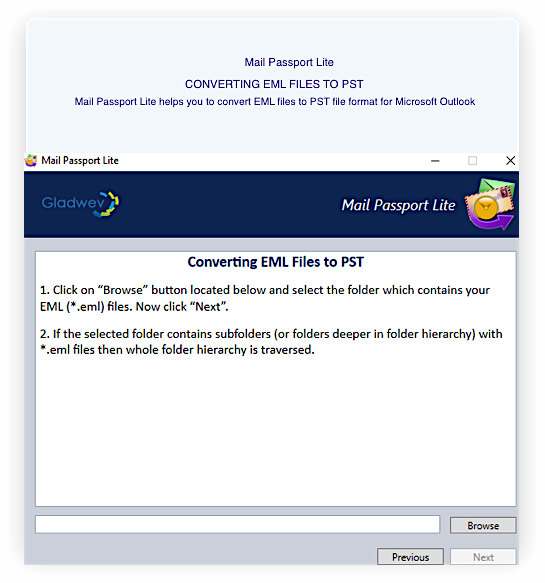 Easy to Use
The interface provides a systematic wizard that guides you to your destination. All the features, buttons, settings, and else are structured wisely to not inhibit the flow, and yet offers maximum flexibility and control. It's the easiest tool to convert MBOX and/or EML to PST files ever.

Converts non-English text
'Mail Passport Lite' is built with Unicode-text conversion utility built right in. It protects and converts the characters in all languages, including Japanese, Chinese, and Korean.

Batch Conversion
With superior batch-conversion support of "Mail Passport Lite', you can now convert multiple MBOX and EML files to PST in bulk. Also, the unique logic and protocols for data safety doesn't let the batch conversion override or compromise the accuracy of output files.
---

Converts every single unit
Email files can be complex. 'Mail Passport Lite' gives you the peace of mind that every single unit of data will be converted without corruption to the fidelity of your data. From metadata to images, from attachments to SMTP headers – your data will be exactly as it was before.

10 times Quicker
The tool holds some truly advanced data-computational algorithms that performs every action unusually fast. It works in average ten times quicker than the conventional tools, which gives you the chance to convert 1GB of files within ten minutes.

Error-Free
The precise logic-framework at its core makes it the most stable MBOX or EML to PST converter in the world. In spite of its power and speed, it works without a single halt during conversion. It is completely error or bug-free, reducing even further the total time requirement for data migration.
A quick introduction
of Mail Passport Lite
Watch the video
Mail Passport Lite is a 2in1 email converter software which can convert MBOX to PST and EML to PST. It work on Windows System. Download free trial and try it yourself.

---
Mail Passport Lite
A windows based email converter tool to convert MBOX to PST and EML to PST file for Windows Outlook 2019, Outlook 2016, Outlook 2013, Outlook 2010, Outlook 2007 and Mac Outlook 2019, Outlook 2016, Outlook 2011.
Download and try it yourself. Follow the link below to see how it works.
How it works
Special (Support)
Help is always a click away!
The support with 24x7 availability gives you further peace of mind and comfort that you need. Get any query answered, or any setback resolved within minutes.
Friendly and co-operative
Instant response, and available round-the-clock
Get help from team of experts on email migration